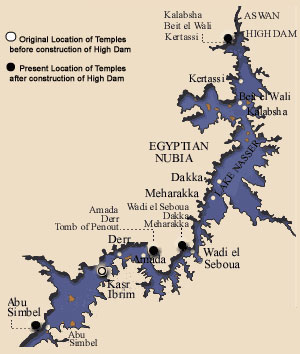 Lake Nasser cruises became popular after the construction of the Aswan High Dam, across the Nile, between 1958 and 1970, the anticipated rising waters behind the dam required major relocation projects that were carried out during the 1960s. There were 18 ancient temples in the area.

The Lake stretches for 180 miles and cruising on it is an unforgettable experience. The area is also home to temples such as Abu Simbel which were painstakingly moved to save them from the rising waters. The cruise offers a journey of natural beauty and discovery in luxury surrounds. Lake Nasser cruises Egypt are operated on a full board basis and can be part of your tailor made holiday to Egypt.

A great way to relax and see the sights is to take a cruise along the Nile or a sail around Lake Nasser. From the decks of a felluca , a traditional wooden sailing boat, or a luxury boat you can see many temples along the way.

Lake Nasser Cruises will take you to the great Temples of Abu Simbel for Ramses II and Nefertari which date back to Pharaonic Egypt and the reign of Ramses II. They were moved in an Unesco project to their present site when the Aswan Dam caused water levels to rise. They were in danger of being submerged under the water. They were literally, carved out of the mountainside. Motorboats take visitors on shorter trips too.

During a Lake Nasser cruise holiday you will sail between Aswan and Abu Simbel for 3 and 4 night journeys through Lake Nasser to discover the Legends of Nubia and the majestic temples and ruins of the region, a cruise holiday on Lake Nasser cruises at Egypt allow unforgettable experience of dining by candlelight on board the cruise mooring beside Abu Simbel temples the Egypt best treasure after the Great Pyramids of Giza .Lake Nasser Holiday will be unforgettable.

There is an impressive variety of birds, mammals, and reptiles, with more than 100 species of birds having been recorded. Wild duck, Egyptian geese, pelicans, herons, egrets and various species of hawks, kites, falcons and eagles will be among the birds seen on Lake Nasser cruises.